My Prose Works in Process:
I have read where most of us have at one time or another wanted to write some published work. Published work seems to receive a nod of approval, accepted as quality enough to be published. It makes sense. Who wouldn't like to author a published piece of work?
From the outside looking in to the writing world the process of writing looks rather easy. Very few will say that it is easy. Most will say it's a blend of many challenges that the writer must overcome to complete a published worthy fiction or nonfiction work.
Wherever you might be in your own thoughts on publishing, the only advice I would offer is to never give up the dream!
---
Starting the New Year with Two Excellent Books!
Stein on Writing - Sol Stein
December 2020 - January 2021

What better transition into a new year than to be reading two excellent books on writing! It is with great expectations I pick up this book. I had focused on Shakespeare for much of my 2020 reading. I have no complaints on that. But now it's time to get back to the craft of writing. I already own many excellent writing books and will begin to reread them as well as hunt out new reads as well. Happy New Year!
---
Method Writing - Jack Grapes
December 2020 - January 2021

I saw this book advertised in Poets & Writers Magazine. I ordered it from Amazon. The book is starting out to be a wonderful pick. I am very happy with the information read so far and how well it aligns to my own personal writing needs. I am just a few chapters into the book but I am excited to read the rest and also begin the associated writing tasks.
Update: I am really pleased with this book. It has broken my writing slump and given me great motivation about the upcoming year!
Nonfiction Writing
About 15 years ago I had a great idea. It was magical. It was as though I figured out a mystery that has stumped the world for centuries. Today, I still belove I am correct on that idea. What I failed at was taking that idea and writing in to being a book. I have spent countless hours over the years working on the project. I also have spent countless days not even thinking about it. In summation what I discovered is that I am not very good at nonfiction writing, or at least finishing the writing. I still have some aspiration of finishing it, but these days I have been stuck in my own mind of why I can not finish it. Maybe 2021?

---
Fiction Writing
Writing poetry took me down a path I had never before considered, writing fiction. Sure I wrote some romantic words that ended up being prose and not poetry, but a whole story simply (or not so simply) made up? That is something entirely different. I ended up taking a class at the community college where I have been taking the poetry writing classes. We met for a few weeks to discuss writing and then we had one huge push to write some fiction to share with the class. What amazed me most is that I wrote 50,000 words over one weekend. Don't get me wrong. I am not claiming to have written anything remotely wonderful. But I did lay down a whole lot of words. This amazed me. It also had me thing about my two nonfiction projects that I can't ever seem to be able to finish. Surely if I can write a story with 50,000 words of effort I can finish what I have already started. Time will tell if I can morph from fiction back into the nonfiction world.
---
Microsoft Word Macros for Better Writing
Visit Tips.Net Website Visit Tech Tools for Writers Website
With the new year came new motivation to be writing. As I focus on improving my writing I stumbled upon two websites that share Microsoft Word macros for better writing. For those not familiar with macros, they are automated events that you can write or copy and add to your own Word program. They get attached to the normal template in Word so they are available in all documents. Like everything, there are plenty of websites and You Tube videos showing you just how easy macros are to add to Microsoft Word. Have mentioned that the macros are free? They are free!

Screen capture of the output window for the macro that shows
how many times a word occurs in a document
---
Write Everywhere! Write All the Time!
Just Write iPhone app

Try Using a simple text editor (Just Write is the one I use) on your phone to write anywhere at anytime. It really frees you up to capture your thoughts without any setup delay that could ruin the spontaneity or mood. One can use a simple text editor to write anywhere, anytime. Sometimes it is actually that simple.
---
Use 750 Words to Make Writing a Daily Habit
750words.com is a website that helps you make daily writing a habit. Quick and simply and fun! Signup to and get committed to your writing practice.

---
Your Dictionary: My Favorite Online Dictionary
YourDictionary.com has quickly become my favorite online dictionary, thesaurus, examples, sentences, quotes and reference and Spanish. Along with Scrabble checker, anagram solver, Words with Friends cheat, and more!
---
The Writer's Chronicle: One of My Favorites!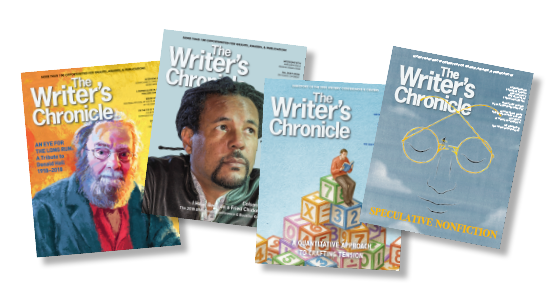 For over four decades, The Writer's Chronicle has served as a leading source of articles, news, and information for writers, editors, students, and teachers of writing. Published four times during the academic year, the Chronicle provides diverse insights into the art of writing that are accessible, pragmatic, and idealistic. Each issue features in-depth essays on the craft of writing, as well as extensive interviews with accomplished authors. Readers can also find news on publishing trends and literary controversies; a listing of grants, awards, and publication opportunities available to writers; and a list of upcoming conferences for writers
(Image and text from Association of Writers and Writing Programs website)
---
Adult Learning | Technical Writing
My professional life has led me into the adult learning environment. There is no greater joy than helping others to help themselves learn. In addition to actually delivering the training much of what I have personally learned the past two decades is due in some part to initially learning it so that I can transfer that knowledge onto others. It is a perpetual life experience that I like to refer to as continuous learning.

Adult learning is not the same as childhood learning. They are different experiences. Adult students learn differently than children. And likewise teachers of adults must deliver training differently than they would to children.
Of those many differences the one I find most exciting is that childhood learning comes to an end. Adult learning continues on for a lifetime. And it is that life-long learning experience that I believe must be properly nurtured.

Below are a few examples of support materials I have created and used in previous adult classes.
Some Old Writing Samples


Essentials of Developing & Delivering Great Adult Training
My Favorite Project Management Links
Vocabulary from the TV series the Twilight Zone
Do the Impossible!
The Time of Your Life
Your Verbal Advantage
Seize Every Day!
Working Even Harder
The CEO's New Business Plan
(my adaptation of The Emperor's New Clothes)
---

My Favorite Classic Literature Writers
In 2019 I chose to dive into classic literature. It quickly amazed me how much I really loved reading classic literature. I avoided it in my earlier days and in the past 10 years I would poke around a little picking one book here and one another time. In 2019 I was on fire! I read and listened to audiobooks at a rate I never had accomplished before. And I loved it. As the dust settled at the end of the year I summed up my favorite classical literature writers to be John Steinbeck and Ernest Hemingway. It is difficult to pick one or two, there are so any wonderful authors, all deserving praise. ...

Author John Steinbeck III was an American writer. He wrote the Pulitzer Prize-winning novel The Grapes of Wrath, published in 1939 and the novella Of Mice and Men, published in 1937. In all, he wrote twenty-five books, including sixteen novels, six non-fiction books and several collections of short stories. In 1962 Steinbeck received the Nobel Prize for Literature. Steinbeck grew up in the Salinas Valley region of California, a culturally diverse place of rich migratory and immigrant history. This upbringing imparted a regionalistic flavor to his writing, giving many of his works a distinct sense of place. Steinbeck moved briefly to New York City, but soon returned home to California to begin his career as a writer. Most of his earlier work dealt with subjects familiar to him from his formative years. An exception was his first novel Cup of Gold which concerns the pirate Henry Morgan, whose adventures had captured Steinbeck's imagination as a child.

In his subsequent novels, Steinbeck found a more authentic voice by drawing upon direct memories of his life in California. Later he used real historical conditions and events in the first half of 20th century America, which he had experienced first-hand as a reporter.

Steinbeck often populated his stories with struggling characters; his works examined the lives of the working class and migrant workers during the Dust Bowl and the Great Depression. His later body of work reflected his wide range of interests, including marine biology, politics, religion, history, and mythology.

One of his last published works was Travels with Charley, a travelogue of a road trip he took in 1960 to rediscover America. He died in 1968 in New York of a heart attack and his ashes are interred in Salinas. Seventeen of his works, including The Grapes of Wrath (1940), Cannery Row (1945), The Pearl (1947), and East of Eden (1952), went on to become Hollywood films, and Steinbeck also achieved success as a Hollywood writer, receiving an Academy Award nomination for Best Story in 1944 for Alfred Hitchcock's Lifeboat.


Ernest Miller Hemingway was an American author and journalist. His economical and understated style had a strong influence on 20th-century fiction, while his life of adventure and his public image influenced later generations. Hemingway produced most of his work between the mid-1920s and the mid-1950s, and won the Nobel Prize in Literature in 1954. He published seven novels, six short story collections and two non-fiction works. Three novels, four collections of short stories and three non-fiction works were published posthumously. Many of these are considered classics of American literature.

Hemingway was raised in Oak Park, Illinois, and after high school he reported for a few months for The Kansas City Star, before leaving for the Italian front to enlist with the World War I ambulance drivers. In 1918, he was seriously wounded and returned home. His wartime experiences formed the basis for his novel A Farewell to Arms. In 1922, he married Hadley Richardson, the first of his four wives. The couple moved to Paris, where he worked as a foreign correspondent, and fell under the influence of the modernist writers and artists of the 1920s "Lost Generation" expatriate community. The Sun Also Rises, Hemingway's first novel, was published in 1926. After his 1927 divorce from Hadley Richardson, Hemingway married Pauline Pfeiffer. They divorced after he returned from Spanish Civil War where he had acted as a journalist, and after which he wrote For Whom the Bell Tolls. Martha Gellhorn became his third wife in 1940. They separated when he met Mary Welsh in London during World War II; during which he was present at the Normandy Landings and liberation of Paris. Shortly after the publication of The Old Man and the Sea in 1952, Hemingway went on safari to Africa, where he was almost killed in two plane crashes that left him in pain and ill-health for much of the rest of his life. Hemingway had permanent residences in Key West, Florida, and Cuba during the 1930s and 1940s, but in 1959 he moved from Cuba to Ketchum, Idaho, where he committed suicide in the summer of 1961.I have watched this movie at least a dozen times and I never tire of it. If you haven't seen the movie, I highly recommend watching it.

How to Write Like Ernest Hemingway

There are a number of good movies on Hemingway and his life but none are more entertaining than PAPA: Hemingway in Cuba. It is a movie I just can't tire of at all. The casting is excellent, the story wonderful, and the filming perfect.


---
My Books on Writing: Depository
I have collected many books to help me learn how to write. Some have been fantastic! Others a bit disappointing. I have listed what I have in this depository along with a note written about the book. It is a note and in no way intended to be a review of the book
Method Writing - Jack Grapes

I saw this book advertised in Poets & Writers Magazine. I ordered it from Amazon. The book is starting out to be a wonderful pick. I am very happy with the information read so far and how well it aligns to my own personal writing needs. I am just a few chapters into the book but I am excited to read the rest and also begin the associated writing tasks.
---
The 12 Fatal Flaws of Fiction Writing - 5 Editors
It's not all about sonnet writing. I have interest in both fiction and nonfiction writing, though I see little chance of ever accomplishing any of it. Maybe a o of my flaws will be addressed in this book. I hope so!
---
2,000 to 10,000 - Rachel Aaron

One weekend last year I wrote a kid's book. I believe I laid down 40,000 words. That is the most I have ever written in one short amount of time. I want to repeat that, and repeat it often. This book seems to claim to help you write faster, better and more of what you love. The book does have some good points to ponder. I just need to put it to use!
---
Poetry: Tools & Techniques - John C. Goodman

In any art there are tools and there is imagination. One must learn the tools and be able to utilize them without having to think about them. This frees up the mind to be fully engages in the creative process. There are many books on tools in the poetry writing market. I am happy if I learn one new technique for every book read. Learning is perpetual!
---
How To Write A Poem: 21 Traits - Rafa Selase

Many times I have purchased a book solely on its cover. At times that is the only information we have on its contents. Such is the case with book. I was truly interested in the 21 traits. Rafa Selase, please, please, please reprint this book! It is printed in such a tiny font size that to say it is difficult to read is a gross understatement. Since I have started with a complaint I will say I was completely disappointed in the book's cover. I learned nothing of any traits of neither the poet nor how to write a poem. Another book that will never be given away to a book sale. It would be wrong to waste the efforts of any other sincere searching poet.
---
Be A Writing Machine - M. L. Ronn

This is an interesting read for those wishing to write ... more of what they write. Packed with a good number of time saving ideas of which most may not actually excite you, but there seems to be a few that bring about some serious consideration. The highlight for me was this very simple act of writing wherever you are by using one's phone. At first glance I thought, no way, it is too cumbersome. But is it really? In those precious spare moments in life when you find yourself sitting around waiting - why not write. and what I am noticing is that these unplanned writing sessions, albeit often brief, seem to allow for easy creative thought. Maybe it is the spontaneity of it all?
---
Writing to Persuade - Andea Lunford

If you want to change people's opinions with your words, and particularly if you want to write an opinion piece that makes an impact, read this new book by the former editor of the New York Times Op-Ed page. Writing to Persuade by Trish Hall interweaves fun, behind-the-scenes stories about the workings of the Times opinions page with solid advice grounded in both research and experience. It's both informative and entertaining.
---
Several Short Sentences About Writing - Verlyn Klinkenborg

Hemingway was a fan of short sentences. It seems logical to me that writing using short sentences may produce very clear prose.
By the writer: Like most received wisdom, what people think they know about writing works in subtle, subterranean ways. For some reason, we seem to believe most strongly in the stuff that gets into our heads without our knowing or remembering how it got there. What we think we know bout writing sounds plausible. It confirms our generally false ideas about creativity and genius. But none of this means it's true.
---
The Poet's Companion - Kim Addonizio & Dorianne Laux

I need some occasional magic in my life! I am excited to read this book on my Kindle! This book will be my last read for 2019. I am looking for lots of occasional magic in the years to come!
---
Write a Book in Two Hours - Jonathan Green

One does not have to look too hard to find a book touting the technique to write a book in X amount of time, from hours, to days, to weeks, to months. They all read about the same. By following same basic planning you can accomplish just about any task, and writing a book is one of them. Maybe it is the project manager in me that likes these types of books? Maybe every other yet accomplished writer likes them as well? I don't know. But I do believe any of these books can help anyone along their way.
---
Start Writing Your Book Today -Morgan Gist MacDonald

Upon deciding to write some more I felt it best to find some motivating information. This book along with some other helped get me back in the saddle, pen in hand.
---
Becoming a Writer - Dorothea Brandi
Apparently I ordered this book at some point last year. I truly had forgotten about ordering it and as such was a little surprised when it arrived. I had done no writing for over half of this year. Was this book meant to be a sign for me to get back to writing? Probably not, but that is exactly what I did. And from October on I have done my best to reconnect with writing.

The book is a good read. And hopefully good catalyst toward success1
---
Revision and Self-Editing for Publication - James Scott Bell
One of two books I just ordered off of Amazon. They were the recommendation of my poetry teacher. Self editing and revising one's own writing is certainly a challenge for me. I'm looking for all the support ideas I can find!
---
Surviving Revision - K. Kristi Loomis
It's a great little book of what to do after you have written down the 1,000s of words. More difficult than the initial draft, is revision. To me, it is the painful part of making it all make sense in an orderly and logical manner all the while having a nice flow to it all. I am stuck in my own writing attempts and looking to this book to help me break free!
---
The Art of Fiction - Ayn Rand
I had listened to The Art of Nonfiction a few days back and absolutely loved it. So much that I purchased the paperback edition so that I could highlight the many excellent points. It seemed only sensible to listen to Ayn Rand's book on fiction writing. It shares much in common with its sister book. It is a must read (or listen) for any writer! I also ordered a paperback edition of The Art of Fiction and will mark it up heavily.
---
The Art of Nonfiction - Ayn Rand
Stumbled on this excellent audio book version of Ayn Rand's The Art of Nonfiction from the library. I admit I am not a reader of Ayn Rand but this book is one of the best on nonfiction writing. It has introduced me to many practices that I need to improve upon or incorporate into my own efforts.
The audio book proved to be so useful I ended up ordering a paperback copy from Amazon.
---
The Practice of Poetry - Robin Behn & Chase Twichell
I am rather immersed in my poetry classes. While I enjoy them immensely I also am adding to them a lot of reading outside of the classroom. I forget what captured my attention about this book but it managed to make it onto my Amazon check out and made its way onto my desk. Here's to hoping it is a great read!

I started reading this book. It is a collection of poetry writing prompts and improvements to apply to one's writing. Each idea is short and you can quickly read through them and gather up a handful of prompts to try. Its going to be a fun book!

---
Why I Wake Early - Mary Oliver
Leading the pack of poets I have been recently courting is Mary Oliver. Her poetry is beautiful and inspiring to me as I look forward to extending my poetic topics beyond personal relationship encounters. It seems a natural choice for me to write poetry about the world around me, I photograph that very same world. In photography one pays attention in great detail of one's surroundings. Writing poetry requires much of the same. This book is a small collection of her poems. One can blaze through it in well under an hour, but don't. Stop and think after each poem; breathe.

---
Rules for the Dance - Mary Oliver
I am new to the poet Mary Oliver. I just finished her book on writing poetry and consider it one of the best books on any type of writing that I have ever read! With great anticipation I am looking forward to reading Rules for the Dance - A handbook for writing and reading metrical verse. Being about the same size as her Poetry Handbook, I assume I will enjoy his book enough to complete it in one sitting!

As I assumed I read this book in a few hours. It is a great book, but I feel it is a little beyond my abilities at this point in time. I will shelve the book for a few weeks and return to it and reread it when I am ready to better understand it.

---
Poetry: A Survivor's Guide - Mark Yakima
Yet another book borrowed for free from my local library. So many books - so little time - yet all available to borrow for free. What a great concept!

Like many of the recent books that I have read on the word craft of writing poetry, this book adds to the voluminous amount of excellent information for the budding poet. I am starting to see a theme develop here. Books on writing about poetry seem to be filled with more emotional content than many of the books I have read about writing prose. Of course there a few of those I have written about below that rock the reader's world - but overall they don't reach as deep into the emotions as my recent reads on writing poetry.

---
Mary Oliver - A Poetry Handbook
I have been taking a poetry writing class in the evening. It has introduced me to a number of great poets, many that I had not known. One of which is Mary Oliver. I may have been the last person left in the world that was not familiar with the poetry - I was in the class. She has written the best poetry writing book that I can imagine. I read it twice. It is good and augments my evening classes perfectly! I was not intending to become a poet, I simply wanted to improve my nonfiction writing skills, but I may have been shortsighted in that view. I am really enjoying the practice of writing poetry.
---
Spellbinding Sentences - Barbara Baig
This book hits a home run way out of the park! It is a pure joy when you get a book that accomplishes as much as the book does. I read it once and need to bet back to reading it again. You don't want to miss a thing in this book. I consider it a required tool for the aspiring writer. Sure you can write without this book, but you would not choose to do so once you have read it. Obviously my suggestion is read this book!
---
The 24 Laws of Storytelling - Jonathan Baldie
To be a good storyteller you need more than one story. This book contains 24 stories, or laws as the book calls them, that are the foundation of quality storytelling. The book did not grab me as I assumed it would. I find this rather disappointing as my though was that a book on storytelling would have it its disposal the benefit of the power of stories. Maybe I read it at the wrong time. I figure I will return to this book in the future and give it another read.
---
Writing Metrical Poetry - William Bear
In preparation of an upcoming writing class at the Anne Arundel Community College I dusted off one of my old books and read it gain for the first time. I don't remember reading this book. Quite possibly I purchased and then never got around to actually reading it. That does happen - more times than I should admit.
The book is excellent! It led me through just about everything a budding poet needs to know. I am ready for my poetry writing class!
---
FREEWRITING For Travel Writers - Jay Artale
Amazon delivered a great, little book yesterday. I do not recall where I saw the ad or reference to this book, but I am glad I ordered it!
I am familiar with freewriting, I just never heard it called that before. And while I wish I was on the road traveling I do not see any treks in the traditional sense my near future, the book seems very applicable to writing nonfiction at any point along the road.
This book has reminded me of a few writing techniques I need to employ in my own endeavors.
---
The Art of Writing a Non-Fiction Book - Bryan Collins
How To Write Non-Fiction - Joanna Penn

Last year I had three weeks off at the end of the year. It was a great experience and part if what made it so wonderful is I devoted a lot of my time and energy into writing. I made some substantial leaps forward. I was pleased. In the proverbial blink of an eye a year has passed. Those three weeks are soon to be mine again. While I have done very little writing on my writing project (a serious error in my ways) I have not completely abandoned the project. I spent over half of the year reading the way a writer should read.
I have studied words, sentences, and writing techniques, all in the hopes of becoming a better communicator through writing. As the momentum picks up speed I am seeking out any and all words of wisdom that I can obtain to jettison me into year-end success. These two books are proving to be very helpful in my journey. I could not have read them at a more valuable time, other than maybe a few years ago when it is quite possible they would have helped save me some lost time. They are quick and easy reads. And for me, they are extremely aligned to the words I need to hear.
Each of these books truly deserve their own mention in my reading list. I leave them combined if anyone would decide to order one, they will certainly want to consider ordering the other.
---
Reading Like a Writer - Francine Prose
An unfortunate theme is revealing itself in the books I pick up on the subject of writing. Holding within them the promise of the world to the want-to-be writer like myself, we enter into reading such books with great enthusiasm. My personal account however is not at all fulfilling. The one thing almost all of the books on writing that I have recently read lack what should be considered essential - is good writing. How can this be? The book taught me nothing that I was not already aware of in the quotes from the great writers.
---
The Writer's Chapbook - George Plimpton
A huge collection of quotes and thoughts by major writers on work habits, the audience, writer's block, revising, literally every aspect of writing. It is not like reading a good novel with the exception of all the tidbits of information leave you emotionally charged! This book will find itself positioned at the end of my reference books, just in reach for when I need an injection of pure enthusiasm.
It is interesting that when reading about writing about writing I did not see great writing surrounding the contents. Is that asking too much? Is it the reality of nonfiction?

---
Stephen King on Writing - Stephen King
I can't say enough good about this book. It was perfect for me! I enjoyed every page and my only regret in reading the book is that it was not longer. What makes this so surprising to me is that I have only ever read two of Stephen King's books. Sure I have seen many movies, but only read the two books.

For anybody writing or considering writing, this book is a must. I believe I will go and read it again.
Rereading it in early 2021.

---
Ernest Hemingway on Writing - Larry W. Phillips
A great collection of Hemingway quotes and letters and interviews. I find this book to contain 140 pages of sheer enjoyment. Hemingway has captured my intrigue and I both enjoy and benefit in reading his works and learning more about him as the write and adventurer he was. When I need a quick shot of motivation on writing I know I can find it in this gathering of all things Hemingway on writing.
I followed this reading with an audio book of Hemingway's short stories. When you need to drive - drive well!

---
Help for Writers and Writing Tools - Roy Peter Clark
I needed help! I was in a lull. I had been failing to write anything at all. It was becoming quite a desperate situation. I turned to the Internet and did some research on books that might be beneficial. What I found was a collection of wonderful books on writing. These two books proved especially relative and useful to me in my writing dilemma.
---
More Books on Writing that Sit on My Bookshelf
1,000 Character Reactions from Head to Toe - Valerie Howard
Building Great Sentences - Brooks Landon
Edit Yourself - Bruce Ross-Larson
How Not to Write - Terence Denman
How to Sell, Then Write Your Nonfiction Book - Blythe Camenson
How to Write Short - Roy Peter Clark
Now Write! - Sherry Ellis
On Writing Well - William Zinsser
Seven Steps on the Writer's Path - Nancy Picard & Lynn Lott
Strong Verbs Stong Voice - Ann Everett
The Art & Craft of Storytelling - Nancy Lamb
The Art of Writing a Non-Fiction Book - Bryan Collins
The Art of X-Ray Reading - Roy Peter Clark
The First Five Pages - Noah Lukeman
The Forest for the Trees - Betsy Lerner
The Story Factor - Annette Simmons
The Writer's Chapbook - George Plimpton
The Writer's Idea Book - Jack Heffron
The Writer's Idea Workshop - Jack Heffron
Write Your Heart Out - Rebecca McClanahan
Writer's Bootcamp - Rachel Federman
Writing with Emotion, Tension & Conflict - Cheryl St.John
---